HOUSEMASTER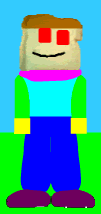 Home: the shipwreck
Been on the island since 2007-05-24
Died: 9 times (last time was 2007-08-06 07:53 at the hands of Zombie Ninja)
Level: 13
Class: Pirate (outsider)
Primary Clan: The cult of Arfenhouseism
Underworld: https://underworld.shartak.com/?id=10123
Deadzone: http://shartak.aphlor.org/deadzone/view/10123

Description:
HAViN FINAL33 GTTN 2 HUHWAAYEE, HOUSMSTAER SREACHES F0R HISS FR33NS TO SAYV TEH WURLD AGEEN! NWO, WH00 BEZ THRR ON HUHWAAYEE KNWOING 0F WEHR KITTY WOOGY DOG AN PICKATHU B3?! AFTR TELLN jO 2 SH00T UP ADN LEVN HM BLEEDN ON TEH B33CH, HOUSSMASTR SETS 0F 2 TEH RESUEC!! JINT M0NTAIN, H33R AH C00!M!!1!

They carry 1 tiger tooth amulet.

Achievements:(12 total)

Areas explored: 211 (5.8% of island)
HP Healed: 0
Trading Points: 20
Spirits Exorcised: 0 (not a shaman)
Wailing Damage: 0
Ritual Feasts: 0 (not a cannibal)
Mentioned in 0 profile

This user does not have extended statistics enabled.

NPC kills: 69; last kill: large deer
Animals: 69
Shamans: 0
Traders: 0
Natives killed: 3; last kill: Isolation
Raktam: 1
Dalpok: 1
Wiksik: 1
Rakmogak: 0
Outsiders killed: 2; last kill: Halfway there
Derby: 0
Durham: 1
York: 1
Shipwreck: 0


NPC kills (detailed):
Name
Kills
wild boar
11
parrot
11
large deer
10
tiger
10
monkey
9
elephant
8
large stag
6
small deer
2
alligator
1
shargle
1
Skills:
Close quarter combat

- Gain 10% to hit with melee attacks

Advanced close quarter combat

- Gain 15% to hit with melee attacks

Balanced Stance

- Sometimes turn a miss into a glancing blow.
Body building

- Increases melee damage

Stamina

- Increases max HP by 20
Exploration

- Helps you remember some of the places you've been

Cartography

- Stops you forgetting where you've visited

Trekking

- Faster movement through the jungle

Swimming

- Faster movement through water
Clan leadership

- Allows you to start your own clan or help lead one
Digging

- Can dig deep holes.
Triage

- Be able to tell who is most injured

First aid

- Heal 10 HP with a first aid kit
This character has been idle since 2007-08-06.
Cookies are in use on this site! Essential ones allow you to login. Google Analytics cookies allow us to monitor how you use the site. Other cookies are for adverts and Facebook social features (eg Like and Login)