Norris R. Laos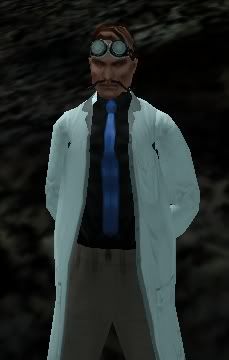 Home: Derby
Been on the island since 2007-03-23
Died: 27 times (last time was 2008-09-08 20:58 at the hands of John the Baptist, killed by a machete)
Level: 16
Class: Scientist (outsider)
Primary Clan: Derby Hospitallers
Secondary Clan: Eastern Federation
Underworld: https://underworld.shartak.com/?id=9178
Deadzone: http://shartak.aphlor.org/deadzone/view/9178

Description:
Norris is a hispanic doctor with totally real degrees and everything. He came to Shartak to discover new ways to operate on patients with the help of the island's ripe victi-- err... Native peoples. Norris is very non-violent, but maybe if he's bored he'll cut you open against your will to practice new medicinal techniques.


He often has horrid nightmares about some sea-faring theif with an odd name and a penchant for being were he shouldn't be.
Achievements:(14 total)

Areas explored: 0 (0.0% of island)
HP Healed: 4140
Trading Points: 0
Spirits Exorcised: 0 (not a shaman)
Wailing Damage: 0
Ritual Feasts: 0 (not a cannibal)
Mentioned in 0 profile

This user does not have extended statistics enabled.

NPC kills: 0
Animals: 0
Shamans: 0
Traders: 0
Natives killed: 0
Raktam: 0
Dalpok: 0
Wiksik: 0
Rakmogak: 0
Outsiders killed: 0
Derby: 0
Durham: 0
York: 0
Shipwreck: 0

Skills:
Basic language

- Understand the smaller words of foreign languages

Advanced language

- Better understanding of foreign languages

Expert language

- Full comprehension of foreign languages

Foreign Writing

- Not only can you understand foreign languages, you can also write it well enough to be understood

Foreign Speech

- Not only can you understand foreign languages, you can also speak it well enough to be understood
Body building

- Increases melee damage

Stamina

- Increases max HP by 20
Clan leadership

- Allows you to start your own clan or help lead one
Sixth sense

- Sense presence of and hear spirits

Psychic recognition

- Lets you recognise active spirits
Haggling

- Be able to obtain slightly better prices from some traders
Native knowledge

- Outsiders gain basic native knowledge
Triage

- Be able to tell who is most injured

First aid

- Heal 10 HP with a first aid kit

Emergency First Aid

- Slowly heal yourself with whatever is around

Advanced Triage

- Be able to see who is injured
This character has been idle since 2008-09-05.
Cookies are in use on this site! Essential ones allow you to login. Google Analytics cookies allow us to monitor how you use the site. Other cookies are for adverts and Facebook social features (eg Like and Login)