Faharo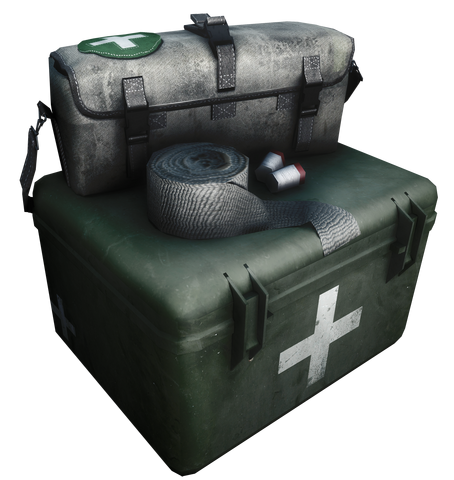 Home: York
Been on the island since 2012-08-04
Died: 8 times (last time was 2012-12-12 16:35, killed by a elephant)
Level: 24
Class: Scientist (outsider)
Primary Clan: York Colonial Corps
Underworld: https://underworld.shartak.com/?id=23229
Deadzone: http://shartak.aphlor.org/deadzone/view/23229

Description:
A random medic trying to get used to his new surroundings. Definitely isn't the same as the infested city of Malton.

He wears standard military uniform, a slightly too-large helmet, and a scarf around his neck. He keeps most of his gear in a backpack, but a lot of the equipment is weaved through straps on his clothing.

You see him rummaging through his personal medical bag. It contains the standard bandages, antiseptic, needles, threa- whoa. Who needs that much alcohol in a bag?? He isn't drinking it himself, but you notice his patients seem a little bit more relaxed...

He sees your glance and smiles toward you. "Meh, a shot of whatever works better than lollipops. Especially when you're still getting back into the surgical groove." He gives a shrug. "Mistakes will be made. Better the patient is a lil' sloshed when it happens." He closes his bag and continues on his way.

They carry 1 pith helmet and 1 wild boar tusk necklace.

Achievements:(12 total)

Areas explored: 70 (1.9% of island)
HP Healed: 1520
Trading Points: 4
Spirits Exorcised: 0 (not a shaman)
Wailing Damage: 0
Ritual Feasts: 0 (not a cannibal)
Mentioned in 0 profile

This user does not have extended statistics enabled.

NPC kills: 209; last kill: large stag
Animals: 209
Shamans: 0
Traders: 0
Natives killed: 0
Raktam: 0
Dalpok: 0
Wiksik: 0
Rakmogak: 0
Outsiders killed: 0
Derby: 0
Durham: 0
York: 0
Shipwreck: 0


NPC kills (detailed):
Name
Kills
alligator
29
zombified parrot
26
monkey
24
small deer
22
large stag
21
bat
17
large deer
16
tiger
15
parrot
12
wild boar
10
elephant
7
rhino
5
turtle
2
zombified monkey
2
silverback
1
Skills:
Basic language

- Understand the smaller words of foreign languages

Advanced language

- Better understanding of foreign languages

Expert language

- Full comprehension of foreign languages

Foreign Speech

- Not only can you understand foreign languages, you can also speak it well enough to be understood
Close quarter combat

- Gain 10% to hit with melee attacks

Advanced close quarter combat

- Gain 15% to hit with melee attacks

Balanced Stance

- Sometimes turn a miss into a glancing blow.
Body building

- Increases melee damage

Stamina

- Increases max HP by 20
Exploration

- Helps you remember some of the places you've been

Trekking

- Faster movement through the jungle

Swimming

- Faster movement through water
Basic tracking

- With some difficulty, you can track animals and people

Advanced tracking

- You can track animals and people who were here recently

Expert tracking

- You can track animals and people who were here several days ago.

Tracking mastery

- Tracking animals and people is nearly effortless
Clan leadership

- Allows you to start your own clan or help lead one
Sixth sense

- Sense presence of and hear spirits

Psychic recognition

- Lets you recognise active spirits
Triage

- Be able to tell who is most injured

First aid

- Heal 10 HP with a first aid kit

Emergency First Aid

- Slowly heal yourself with whatever is around

Field Surgery

- Skilled at healing, even in the middle of nowhere.

Advanced Triage

- Be able to see who is injured
This character has indicated they have peaceful intentions and would prefer not to be killed.
This character has been idle since 2012-12-18.
Cookies are in use on this site! Essential ones allow you to login. Google Analytics cookies allow us to monitor how you use the site. Other cookies are for adverts and Facebook social features (eg Like and Login)