Marcy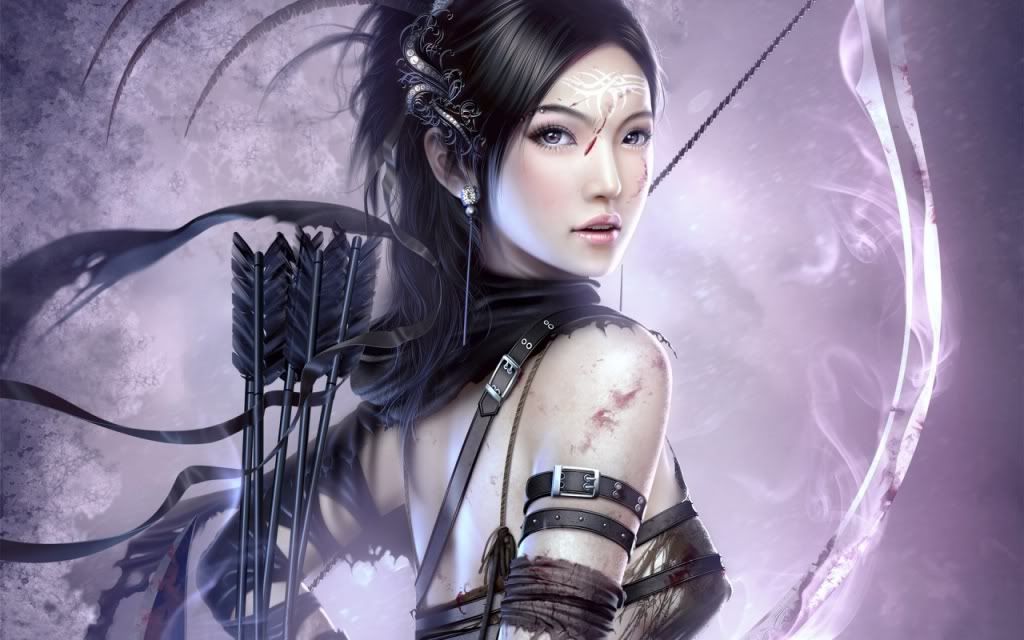 Home: Raktam
Been on the island since 2009-12-04
Died: 63 times (last time was 2010-12-24 01:05, killed by a wild boar)
Level: 24
Class: Warrior (native)
Primary Clan: Orwhans
Secondary Clan: Snake Eaters
Underworld: https://underworld.shartak.com/?id=19959
Deadzone: http://shartak.aphlor.org/deadzone/view/19959

Description:
You see before you a beautiful warrior with shiny silver eyes, but you cannot be sure she is native or outsider because of her fair skin and dark features. Despite her inviting beauty, she looks at you with an indifference, and you decide she's not very friendly. Her actions soon suggest she cares very little about those outside her race. And yet, you are still drawn to her. Something inside you makes your body move toward her.

She wears cloths she made from the North-Eastern Grasslands, held on to her with leather straps she crafted from alligators. She wears no shoes, but there are leather straps around her ankles that go under her heel. She carries with her a crossbow she created herself that shoots poison darts with deadly accuracy.

You are surprised to see two tattoos on her: a small cat on her left back shoulder, faded from her previous life, and a symbol that looks like a :. on her right front collarbone, that looks like it's glistening.

They carry 4 plain wooden cups, 1 pair of batwing earrings, 1 parrot feather charm and 1 skull.

Achievements:(14 total)

Areas explored: 284 (7.8% of island)
HP Healed: 229
Trading Points: 3
Spirits Exorcised: 0 (not a shaman)
Wailing Damage: 0
Ritual Feasts: 0 (not a cannibal)
Mentioned in 0 profile

This user does not have extended statistics enabled.

NPC kills: 117; last kill: ferocious tiger
Animals: 117
Shamans: 0
Traders: 0
Natives killed: 4; last kill: Hobo Vampire
Raktam: 2
Dalpok: 0
Wiksik: 1
Rakmogak: 1
Outsiders killed: 37; last kill: Darius Drake
Derby: 8
Durham: 5
York: 20
Shipwreck: 4


NPC kills (detailed):
Name
Kills
alligator
30
monkey
20
wild boar
11
tiger
11
large stag
9
rat
7
small deer
6
parrot
5
large deer
5
shargle
4
ferocious tiger
3
goat
3
turtle
1
giant spider
1
bat
1
Skills:
Basic language

- Understand the smaller words of foreign languages

Advanced language

- Better understanding of foreign languages

Expert language

- Full comprehension of foreign languages
Close quarter combat

- Gain 10% to hit with melee attacks

Advanced close quarter combat

- Gain 15% to hit with melee attacks

Balanced Stance

- Sometimes turn a miss into a glancing blow.

Headhunting

- Take the heads of your victims as trophies or signpost decoration
Body building

- Increases melee damage

Stamina

- Increases max HP by 20
Ghostly whisper

- Allows spirits to communicate
Exploration

- Helps you remember some of the places you've been

Cartography

- Stops you forgetting where you've visited

Trekking

- Faster movement through the jungle
Basic tracking

- With some difficulty, you can track animals and people

Advanced tracking

- You can track animals and people who were here recently

Expert tracking

- You can track animals and people who were here several days ago.

Tracking mastery

- Tracking animals and people is nearly effortless
Sixth sense

- Sense presence of and hear spirits
Outsider knowledge

- Natives gain basic outsider knowledge
Triage

- Be able to tell who is most injured

Natural medicine

- Heal 10 HP with healing herbs
Basic Blowpipe Use

- Enables you to use a blowpipe more efficiently
Blowpipe training

- Gain 20% on blowpipe accuracy

Advanced blowpipe training

- Gain another 20% on blowpipe accuracy
This character has been idle since 2010-12-28.
Cookies are in use on this site! Essential ones allow you to login. Google Analytics cookies allow us to monitor how you use the site. Other cookies are for adverts and Facebook social features (eg Like and Login)