Greta van Hausen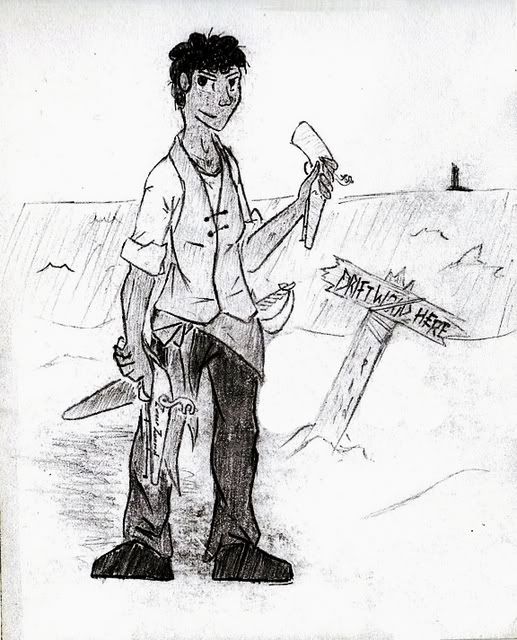 Home: Derby
Been on the island since 2007-02-16
Died: 23 times (last time was 2008-08-08 03:46 at the hands of Cold Seether, killed by a cutlass)
Level: 8
Class: Soldier (outsider)
Primary Clan: None chosen
Underworld: https://underworld.shartak.com/?id=8538
Deadzone: http://shartak.aphlor.org/deadzone/view/8538

Description:
(ALL PKs ARE POLICE WORK)

Illegitimate daughter of a Dutch noblewoman and an African slave, Greta stands an impressive six feet in height and speaks with a mix of accents. A pirate for over a decade, she was forced into work in Derby security when her ship was captured.

On her hips are a cutlass and knife, engraved with "Kanon" and "Kogal" respectively. Also tucked into her belt are a pair of masterfully crafted flintlock pistols, each engraved with the words "Zwaar Zwaard". Ambidextrous, she either shoots akimbo or fences with a blade in each hand.

She seems to have "forgotten" to wear her dumpy, ill-fitting Derby uniform in favour of piratey rags.
Achievements:(12 total)

Areas explored: 13 (0.4% of island)
HP Healed: 2
Trading Points: 6
Spirits Exorcised: 0 (not a shaman)
Wailing Damage: 0
Ritual Feasts: 0 (not a cannibal)
Mentioned in 0 profile

This user does not have extended statistics enabled.

NPC kills: 29; last kill: alligator
Animals: 29
Shamans: 0
Traders: 0
Natives killed: 3; last kill: Carden
Raktam: 1
Dalpok: 0
Wiksik: 2
Rakmogak: 0
Outsiders killed: 7; last kill: Herckelberk
Derby: 5
Durham: 0
York: 0
Shipwreck: 2


NPC kills (detailed):
Name
Kills
tiger
7
wild boar
6
monkey
4
parrot
3
elephant
3
alligator
2
large stag
2
small deer
1
large deer
1
Skills:
Close quarter combat

- Gain 10% to hit with melee attacks

Advanced close quarter combat

- Gain 15% to hit with melee attacks

Balanced Stance

- Sometimes turn a miss into a glancing blow.
Body building

- Increases melee damage
Exploration

- Helps you remember some of the places you've been

Swimming

- Faster movement through water
Firearms training

- Gain 20% on firearms attacks

Advanced firearms training

- Gain another 20% on firearms attacks
This character has been idle since 2009-01-29.
Cookies are in use on this site! Essential ones allow you to login. Google Analytics cookies allow us to monitor how you use the site. Other cookies are for adverts and Facebook social features (eg Like and Login)