Zydd Soral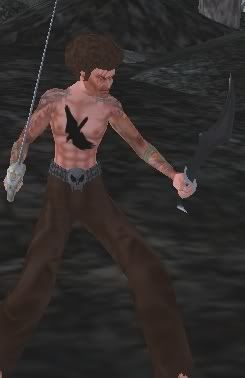 Home: the shipwreck
Been on the island since 2006-06-14
Died: 70 times (last time was 2008-06-24 01:27 at the hands of kill thrill, killed by a machete)
Level: 27
Class: Pirate (outsider)
Primary Clan: None chosen
Underworld: http://www.philosoph.us/misc/shartak/underworld/?id=3322
Deadzone: http://shartak.aphlor.org/deadzone/view/3322

Description:
Zydd is a pirate, probably no older than 23, who is experienced in martial arts and rightly calls himself a ninja pirate. Almost all of his exposed skin is covered with fading tattoos, the only one still recognizable being an incredibly large, detailed and rather exquisite raven on his chest. He is fairly simple in appearance, other than his over the top afro and horrible smell. His forefinger is missing on his left hand and one of his eyes are a dull gray from taking a bullet near there. His long, curly hair is in extreme disarray from the hours upon hours of hard work out in the sun and wind. His low, raspy voice betrays his secret. He has not been among the realm of the living for quite some time; He is unable to contact the shamen of Shartak.

They carry 2 rabbit foot charms and 1 tiger tooth amulet.

Email: zyddsoral@gmail.com
Achievements:(9 total)

Areas explored: 1908 (52.6% of island)
HP Healed: 37
Trading Points: 85
Spirits Exorcised: 0 (not a shaman)
Wailing Damage: 0
Ritual Feasts: 0 (not a cannibal)
Mentioned in 0 profile

This user does not have extended statistics enabled.

NPC kills: 128; last kill: monkey
Animals: 128
Shamans: 0
Traders: 0
Natives killed: 23; last kill: Wambayak
Raktam: 4
Dalpok: 7
Wiksik: 12
Rakmogak: 0
Outsiders killed: 56; last kill: uhootravel
Derby: 2
Durham: 7
York: 38
Shipwreck: 9


NPC kills (detailed):
Name
Kills
monkey
26
large stag
22
tiger
16
wild boar
14
parrot
12
bat
10
small deer
9
elephant
9
large deer
6
alligator
1
zombified wild boar
1
zombified monkey
1
rhino
1
Skills:
Basic language

- Understand the smaller words of foreign languages

Advanced language

- Better understanding of foreign languages

Expert language

- Full comprehension of foreign languages

Foreign Writing

- Not only can you understand foreign languages, you can also write it well enough to be understood

Foreign Speech

- Not only can you understand foreign languages, you can also speak it well enough to be understood
Close quarter combat

- Gain 10% to hit with melee attacks

Advanced close quarter combat

- Gain 15% to hit with melee attacks

Balanced Stance

- Sometimes turn a miss into a glancing blow.
Body building

- Increases melee damage

Stamina

- Increases max HP by 20
Ghostly whisper

- Allows spirits to communicate
Exploration

- Helps you remember some of the places you've been

Cartography

- Stops you forgetting where you've visited

Trekking

- Faster movement through the jungle

Swimming

- Faster movement through water
Basic tracking

- With some difficulty, you can track animals and people

Advanced tracking

- You can track animals and people who were here recently

Expert tracking

- You can track animals and people who were here several days ago.

Tracking mastery

- Tracking animals and people is nearly effortless
Clan leadership

- Allows you to start your own clan or help lead one
Sixth sense

- Sense presence of and hear spirits

Psychic recognition

- Lets you recognise active spirits
Haggling

- Be able to obtain slightly better prices from some traders
Digging

- Can dig deep holes.
Native knowledge

- Outsiders gain basic native knowledge
Triage

- Be able to tell who is most injured

First aid

- Heal 10 HP with a first aid kit
This character has been idle since 2008-12-11.
Cookies are in use on this site! Essential ones allow you to login. Google Analytics cookies allow us to monitor how you use the site. Other cookies are for adverts and Facebook social features (eg Like and Login)