Brain Damage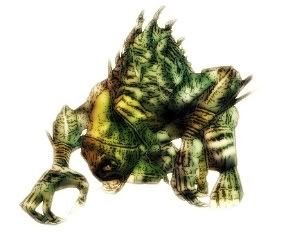 Home: Rakmogak
Been on the island since 2009-03-30
Died: 3 times (last time was 2009-04-15 03:07 at the hands of Hawthorne, killed by a heavy sword)
Level: 4
Class: Cannibal (native)
Primary Clan: None chosen
Underworld: http://underworld.shartak.com/?id=18471
Deadzone: http://shartak.aphlor.org/deadzone/view/18471

Description:
Once known as a Jengo, he was cast out after an accident involving a horse, it's hoof, and little Jengo's head. He was left with no sense of right and wrong. He kills to eat in order to survive; man or animal, he cannot tell the difference. His instincts are what drive him on his road for survival.
----------
He wears a tiger pelt for warmth and brandishes a machete he found in an abandoned hut. He carries few skulls with them for his own curiosity on what they are. He speaks few words and are generally slurred beyond recognition. He cannot be reasoned with, he will attack you if he is hungry and will walk past you if he seeks shelter. He likes to collect shiny objects, if you are flashing gold or silver in front of him, he will fight you for it.
Achievements:(10 total)

Areas explored: 0 (0.0% of island)
HP Healed: 0
Trading Points: 1
Spirits Exorcised: 0 (not a shaman)
Wailing Damage: 0
Ritual Feasts: 0 ( own kills)
Mentioned in 0 profile

This user does not have extended statistics enabled.

NPC kills: 11; last kill: monkey
Animals: 11
Shamans: 0
Traders: 0
Natives killed: 0
Raktam: 0
Dalpok: 0
Wiksik: 0
Rakmogak: 0
Outsiders killed: 0
Derby: 0
Durham: 0
York: 0
Shipwreck: 0


NPC kills (detailed):
Name
Kills
small deer
2
parrot
2
bat
2
monkey
1
wild boar
1
large deer
1
tiger
1
elephant
1
Skills:
Close quarter combat

- Gain 10% to hit with melee attacks

Advanced close quarter combat

- Gain 15% to hit with melee attacks
Body building

- Increases melee damage

Stamina

- Increases max HP by 20
This character has indicated they have peaceful intentions and would prefer not to be killed.
This character has been idle since 2009-04-24.
Cookies are in use on this site! Essential ones allow you to login. Google Analytics cookies allow us to monitor how you use the site. Other cookies are for adverts and Facebook social features (eg Like and Login)