Mark D. Stroyer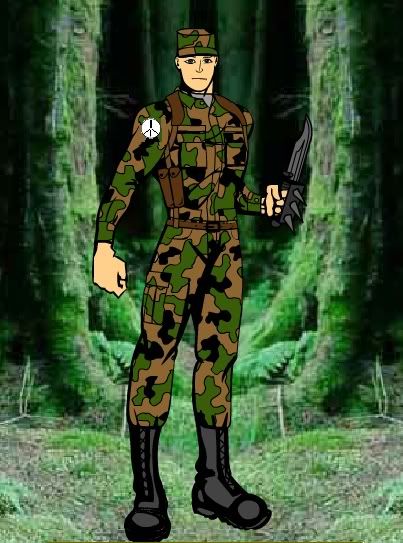 Home: Derby
Been on the island since 2006-12-20
Died: 22 times (last time was 2010-01-08 17:46 at the hands of Tkltchk, killed by a machete)
Level: 33
Class: Explorer (outsider)
Primary Clan: Derby Rangers
Secondary Clan: Eastern Federation
Underworld: https://underworld.shartak.com/?id=7412
Deadzone: http://shartak.aphlor.org/deadzone/view/7412

Description:
Age: 45
Height: 6' 1"
Clothing: Woodland camouflage pants, jacket and cap, jungle boots.


An ex-Army Sergeant Major, he was in scouting and reconnaissance for seven years, among various other occupations. In his years in service, he also learned to be proficient in patching up wounded soldiers. After retiring, he came here for an adventure. An adventure may be an understatement.

He has a machete in scabbard across his back, for maneuverability. The handle is above his left shoulder. At his right hip is a knife. He also has a medic's bag on the rear left side of his belt, typically filled with dressings. On his right shoulder is a Derby Rangers patch. He currently leads the Derby Rangers, the Eastern Federation's paramilitary group.

Mark is generally cheerful, frequently joking around. However, during times when action is needed, he can quickly become deadly serious. He always watches his allies closely, making sure they're in no more danger than he is. He's devoted to the safety of Derby, and even in peacetime can be often found patrolling the jungles around the town, usually hunting animals as he does. He has done a lot of killing in his time, and will do it without hesitation, given proper reason.


Outsider kills were PKers. Native kills were hostile. Pirate kills were also hostile.
Achievements:(23 total)

Areas explored: 1372 (37.8% of island)
HP Healed: 6609
Trading Points: 203
Spirits Exorcised: 0 (not a shaman)
Wailing Damage: 0
Ritual Feasts: 0 (not a cannibal)
Mentioned in 0 profile

This user does not have extended statistics enabled.

NPC kills: 368; last kill: wild boar
Animals: 368
Shamans: 0
Traders: 0
Natives killed: 18; last kill: Vetari the Vicious
Raktam: 4
Dalpok: 2
Wiksik: 8
Rakmogak: 4
Outsiders killed: 10; last kill: Nivlac Ttenneb
Derby: 3
Durham: 0
York: 2
Shipwreck: 5


NPC kills (detailed):
Name
Kills
parrot
51
wild boar
46
small deer
44
large deer
42
monkey
36
large stag
33
elephant
32
tiger
31
bat
18
guard dog
12
alligator
8
rat
4
rhino
4
shargle
3
ferocious tiger
2
turtle
1
giant spider
1
Skills:
Basic language

- Understand the smaller words of foreign languages

Advanced language

- Better understanding of foreign languages

Expert language

- Full comprehension of foreign languages

Foreign Writing

- Not only can you understand foreign languages, you can also write it well enough to be understood

Foreign Speech

- Not only can you understand foreign languages, you can also speak it well enough to be understood
Close quarter combat

- Gain 10% to hit with melee attacks

Advanced close quarter combat

- Gain 15% to hit with melee attacks

Balanced Stance

- Sometimes turn a miss into a glancing blow.
Body building

- Increases melee damage

Stamina

- Increases max HP by 20
Ghostly whisper

- Allows spirits to communicate

Haunting scream

- Attract other spirits and scare the living

Shocking shriek

- Scare nearby living players

Banshee wail

- Frighten living players further away

Possession

- Be able to possess the bodies of the living

Forceful possession

- Sometimes a stronger presence is needed to be able to possess the living
Exploration

- Helps you remember some of the places you've been

Cartography

- Stops you forgetting where you've visited

Trekking

- Faster movement through the jungle

Trailblazing

- Increased ability to move and chop through dense jungle

Swimming

- Faster movement through water
Basic tracking

- With some difficulty, you can track animals and people

Advanced tracking

- You can track animals and people who were here recently

Expert tracking

- You can track animals and people who were here several days ago.

Tracking mastery

- Tracking animals and people is nearly effortless
Clan leadership

- Allows you to start your own clan or help lead one
Sixth sense

- Sense presence of and hear spirits

Psychic recognition

- Lets you recognise active spirits
Haggling

- Be able to obtain slightly better prices from some traders
Digging

- Can dig deep holes.
Native knowledge

- Outsiders gain basic native knowledge
Triage

- Be able to tell who is most injured

First aid

- Heal 10 HP with a first aid kit
This character has been idle since 2010-01-07.
Cookies are in use on this site! Essential ones allow you to login. Google Analytics cookies allow us to monitor how you use the site. Other cookies are for adverts and Facebook social features (eg Like and Login)