Jim Corbett the Naturalist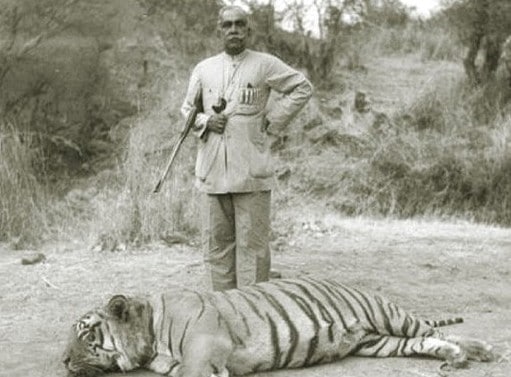 Home: York
Been on the island since 2019-12-27
Died: 1 time (last time was 2020-02-18 11:08 at the hands of Shane Schofield, killed by a machete)
Level: 8
Class: Soldier (outsider)
Primary Clan: None chosen
Underworld: https://underworld.shartak.com/?id=26285
Deadzone: http://shartak.aphlor.org/deadzone/view/26285

Description:
Jim Corbett is a British hunter, tracker, naturalist, and author who hunts man-eating animals. He holds the rank of colonel in the British Indian Army and was frequently called upon by the Government of the United Provinces of Agra and Oudh, to kill man-eating tigers and leopards that were preying on people in the nearby villages of the Garhwal and Kumaon divisions. Nowdays he works for the good of the Island of Shartak and does his best to make the jungle a safer place by hunting

Alligators
Bears
Elephants
Giant Spiders
Giant Squids
Pythons
Rats
Shargles
Silverbacks
Tigers
Wild Boars

Deep machete scars mark the places on his body where Shane Shofield, a crazy maniac, attacked him.
Achievements:(1 total)

Areas explored: 74 (2.0% of island)
HP Healed: 0
Trading Points: 1
Spirits Exorcised: 0 (not a shaman)
Wailing Damage: 0
Ritual Feasts: 0 (not a cannibal)
Mentioned in 0 profile

The following extended statistics are since 1st Jan 2011.

Alcohol Brewed: 0
Alcohol Drunk: 5
Heads Collected: 0
Fruit Juiced: 0
Successful Possessions: 0
Tracks Found: 2
Fires Started: 0
Fires Extinguished: 0
Items Buried: 0
Items Found: 241
Jungle Chopped: 146
Parrots Tamed: 0

(not a pirate)


Monkeys Tamed: 0

(not a pirate)


Signposts Built: 0
Signposts Smashed: 0
Treasures Found: 0 (added 2014-07-14)

NPC kills: 36; last kill: alligator
Animals: 36
Shamans: 0
Traders: 0
Natives killed: 0
Raktam: 0
Dalpok: 0
Wiksik: 0
Rakmogak: 0
Outsiders killed: 0
Derby: 0
Durham: 0
York: 0
Shipwreck: 0


NPC kills (detailed):
Name
Kills
alligator
25
tiger
5
wild boar
2
elephant
2
silverback
1
rat
1
Skills:
Body building

- Increases melee damage
Exploration

- Helps you remember some of the places you've been

Cartography

- Stops you forgetting where you've visited

Trekking

- Faster movement through the jungle
Basic tracking

- With some difficulty, you can track animals and people
Native knowledge

- Outsiders gain basic native knowledge
Firearms training

- Gain 20% on firearms attacks

Advanced firearms training

- Gain another 20% on firearms attacks
This character has indicated they have peaceful intentions and would prefer not to be killed.
This character has been idle since 2020-02-27.
Cookies are in use on this site! Essential ones allow you to login. Google Analytics cookies allow us to monitor how you use the site. Other cookies are for adverts and Facebook social features (eg Like and Login)