William Williams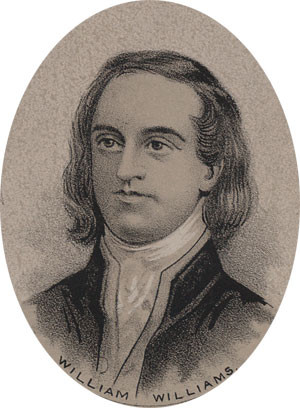 Home: Derby
Been on the island since 2014-02-18
Died: 20 times (last time was 2014-05-28 16:22 at the hands of Black Rum, killed by a pistol)
Level: 6
Class: Settler (outsider)
Primary Clan: None chosen
Underworld: https://underworld.shartak.com/?id=24158
Deadzone: http://shartak.aphlor.org/deadzone/view/24158

Description:
Representing Connecticut at the continental Congress

Williams

Born: April 23, 1731
Birthplace: Lebanon, Conn.
Education: Graduate of Harvard (Merchant)
Work: Town Clerk, Selectman, Provincial Representative, Council to the Legislature. Elected State Legislator, delegate to colonial conferences, 1775; Elected to Continental Congress, 1776-77; Delegate to the Connecticut convention to ratify the federal Constitution, 1787; Judge of the Windham County Courthouse.
Died: August 2, 1811
His biography notes that William Williams was a successful merchant, but it is difficult to imagine when he found the time. Born in 1731, he attained a common school education. He attended Harvard and graduated in 1751. He then studied theology with his father, Pastor of the First Congregational Church in Lebanon. Four years later, he joined his father's cousin in the French and Indian War at Lake George. When he returned, he established himself in Lebanon as a merchant, and also took a job as town clerk. He held that position for forty-four years. He was a Selectman for twenty-five years, served the provincial and later state Legislature for nearly forty years-during which time he was councilor, member, and Speaker of the House.

He was elected to the Continental Congress in 1776. He arrived too late to vote for Independence (he replaced Oliver Wolcott, who became seriously ill), but he did sign the Declaration, and was then appointed a member of the committee to frame the Articles of Confederation. In 1777 he was appointed to the Board of War. After the war, he attended the Hartford convention, where Connecticut ratified the Federal Constitution. Williams spent his remaining years as a County Court judge. He died in 1811 at the age of 80.

They carry 2 pocket watches.

Achievements:(7 total)

Areas explored: 0 (0.0% of island)
HP Healed: 0
Trading Points: 0
Spirits Exorcised: 0 (not a shaman)
Wailing Damage: 0
Ritual Feasts: 0 (not a cannibal)
Mentioned in 0 profile

The following extended statistics are since 1st Jan 2011.

Alcohol Brewed: 0
Alcohol Drunk: 0
Heads Collected: 0
Fruit Juiced: 0
Successful Possessions: 0
Tracks Found: 0
Fires Started: 0
Fires Extinguished: 0
Items Buried: 0
Items Found: 30
Jungle Chopped: 0
Parrots Tamed: 0

(not a pirate)


Monkeys Tamed: 0

(not a pirate)


Signposts Built: 0
Signposts Smashed: 0
Treasures Found: 0 (added 2014-07-14)

NPC kills: 2; last kill: monkey
Animals: 2
Shamans: 0
Traders: 0
Natives killed: 2; last kill: baby doc duvalier
Raktam: 1
Dalpok: 0
Wiksik: 0
Rakmogak: 1
Outsiders killed: 14; last kill: Tanner85
Derby: 11
Durham: 0
York: 2
Shipwreck: 1


NPC kills (detailed):
Name
Kills
silverback
1
monkey
1
Skills:
Close quarter combat

- Gain 10% to hit with melee attacks

Advanced close quarter combat

- Gain 15% to hit with melee attacks

Balanced Stance

- Sometimes turn a miss into a glancing blow.
Body building

- Increases melee damage

Stamina

- Increases max HP by 20
Triage

- Be able to tell who is most injured
This character has been idle since 2014-05-30.
Cookies are in use on this site! Essential ones allow you to login. Google Analytics cookies allow us to monitor how you use the site. Other cookies are for adverts and Facebook social features (eg Like and Login)