Abdul Alhazred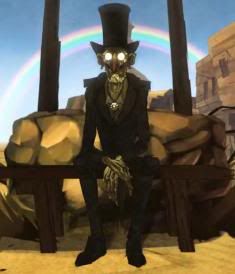 Home: Durham
Been on the island since 2011-02-26
Died: 17 times (last time was 2011-09-07 15:32 at the hands of Eyes of a Hawk, killed by a heavy sword)
Level: 7
Class: Explorer (outsider)
Primary Clan: None chosen
Underworld: https://underworld.shartak.com/?id=21884
Deadzone: http://shartak.aphlor.org/deadzone/view/21884

Description:
Abdul Alhazred, a mad poet of Sana√°, in Yemen, who is said to have flourished during the period of the Ommiade caliphs, circa 700 A.D. He visited the ruins of Babylon and the subterranean secret of Memphis and spent ten years alone in the great southern desert of Arabia - the Roba El Khaliyeh or "Empty Space" of the ancients'and "Dahna" or "Crimson" desert of the modern Arabs, which is held to be inhabited by protective evil spirits and monsters of death. Of this desert many strange and unbelievable marvels are told by those who pretend to have penetrated it. In his last years Alhazred dwelt in Damascus.

In 730, while still living in Damascus, Alhazred supposedly wrote a book of ultimate evil in Arabic, al-Azif, which would later become known as the Necronomicon. Those who have dealings with this book usually come to an unpleasant end, and Alhazred was no exception. Again according to history:

"Of his final death or disappearance (738 A.D.) many terrible and conflicting things are told. He is said by Ebn Khallikan (12th cent. biographer) to have been seized by an invisible monster in broad daylight and devoured horribly before a large number of fright-frozen witnesses. Of his madness many things are told. He claimed to have seen the fabulous Irem, or City of Pillars, and to have found beneath the ruins of a certain nameless desert town the shocking annals and secrets of a race older than mankind. He was only an indifferent Muslim, worshipping unknown entities whom he called Yog-Sothoth and Cthulhu.

Waking up on Shartak long after his death, he thanks Cthulhu for every moment he may walk the world of the living once more.

They carry 1 Club Palermo pint glass.

Achievements:(9 total)

Areas explored: 72 (2.0% of island)
HP Healed: 96
Trading Points: 1
Spirits Exorcised: 0 (not a shaman)
Wailing Damage: 0
Ritual Feasts: 0 (not a cannibal)
Mentioned in 0 profile

The following extended statistics are since 1st Jan 2011.

Alcohol Brewed: 0
Alcohol Drunk: 5
Heads Collected: 0
Fruit Juiced: 0
Successful Possessions: 0
Tracks Found: 0
Fires Started: 0
Fires Extinguished: 0
Items Buried: 2
Items Found: 40
Jungle Chopped: 1
Parrots Tamed: 0

(not a pirate)


Monkeys Tamed: 0

(not a pirate)


Signposts Built: 0
Signposts Smashed: 0
Treasures Found: 0 (added 2014-07-14)

NPC kills: 20; last kill: monkey
Animals: 20
Shamans: 0
Traders: 0
Natives killed: 0
Raktam: 0
Dalpok: 0
Wiksik: 0
Rakmogak: 0
Outsiders killed: 8; last kill: Da Skooth
Derby: 1
Durham: 6
York: 0
Shipwreck: 1


NPC kills (detailed):
Name
Kills
monkey
4
small deer
3
parrot
3
large stag
3
tiger
2
elephant
2
wild boar
1
large deer
1
bat
1
Skills:
Close quarter combat

- Gain 10% to hit with melee attacks

Advanced close quarter combat

- Gain 15% to hit with melee attacks

Balanced Stance

- Sometimes turn a miss into a glancing blow.
Body building

- Increases melee damage

Stamina

- Increases max HP by 20
Exploration

- Helps you remember some of the places you've been

Cartography

- Stops you forgetting where you've visited
This character has indicated they have peaceful intentions and would prefer not to be killed.
This character has been idle since 2011-09-02.
Cookies are in use on this site! Essential ones allow you to login. Google Analytics cookies allow us to monitor how you use the site. Other cookies are for adverts and Facebook social features (eg Like and Login)