Hermit Crawmad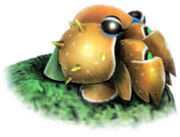 Home: Rakmogak
Been on the island since 2009-03-12
Died: 7 times (last time was 2013-05-19 23:09, killed by a rat)
Level: 12
Class: Cannibal (native)
Primary Clan: Cannibal Cave Dwarfs
Underworld: https://underworld.shartak.com/?id=18305
Deadzone: http://shartak.aphlor.org/deadzone/view/18305

Description:
Looking at the eyes and sickle-shaped legs characteristic of squillas, one would think this is a squilla relative. In fact, it is a relative of the hermit crab. This species, however, has migrated from seaside life in a shell and instead inhabits burrows in the ground. While it's legs appear sickle-like, they are pincers that have evolved into a fin shape. This beast feeds on small creatures that pass by its lair, dragging them inside to eat them.
*****************************************
For cannibals:
Shuck from the shell, bake on high heat until crispy, then dip in a pot of melted milk chocolate. Lip-smacking sweet!


Email: Not given
Achievements:(15 total)

Areas explored: 62 (1.7% of island)
HP Healed: 0
Trading Points: 1
Spirits Exorcised: 0 (not a shaman)
Wailing Damage: 0
Ritual Feasts: 15 (15 own kills)
Mentioned in 0 profile

This user does not have extended statistics enabled.

NPC kills: 143; last kill: rat
Animals: 143
Shamans: 0
Traders: 0
Natives killed: 4; last kill: Conu'co
Raktam: 2
Dalpok: 0
Wiksik: 2
Rakmogak: 0
Outsiders killed: 6; last kill: Eliza Day
Derby: 6
Durham: 0
York: 0
Shipwreck: 0


NPC kills (detailed):
Name
Kills
rat
131
giant spider
10
large stag
2
Skills:
Close quarter combat

- Gain 10% to hit with melee attacks

Advanced close quarter combat

- Gain 15% to hit with melee attacks

Balanced Stance

- Sometimes turn a miss into a glancing blow.
Body building

- Increases melee damage

Stamina

- Increases max HP by 20

Ritual Feasting

- Feast on your defeated enemy and steal their power

Ritual Gluttony

- Feasting can now fill most of your needs from a single body
Exploration

- Helps you remember some of the places you've been

Trekking

- Faster movement through the jungle

Swimming

- Faster movement through water
Triage

- Be able to tell who is most injured

Natural medicine

- Heal 10 HP with healing herbs
This character has been idle since 2013-05-16.
Cookies are in use on this site! Essential ones allow you to login. Google Analytics cookies allow us to monitor how you use the site. Other cookies are for adverts and Facebook social features (eg Like and Login)