road warrior HAWK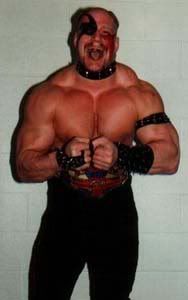 Home: Rakmogak
Been on the island since 2008-12-30
Died: 46 times (last time was 2009-07-31 02:06, killed by a shark attack)
Level: 19
Class: Cannibal (native)
Primary Clan: None chosen
Underworld: https://underworld.shartak.com/?id=17541
Deadzone: http://shartak.aphlor.org/deadzone/view/17541

Description:
height: 6ft 3in
weight: 275lb
hailing from: chicago, illinois
appearance: HAWK has bihawks with red and black face paint, wearing huge red shoulderpads with large spikes. HAWK will clothesline the shit out of you man.
AAAAAAAAAAAAAAAAAAHHHHHHH WHAAAAAAAAAT AAAAAAAHHH RUSHHHHHHHHHH.
he doesnt remember much before the outsiders and others came to the homeland. the uwf began to dissolve resulting in many of the other wrestlers making their way to bigger venues on the mainland. HAWK hasnt decided whether he should follow suit and travel onward, into unknown territories and new promotions, or if he should remain in his deteriorating homestead.
(last time was 2009-05-26 08:14, killed by a gourd of fungi juice)
its said that his arms, when striking down on his victims, feel like that of a wooden club and cause a similar amount of pain. so often that, the victims of HAWK, frequently misidentify the attacks of his club and his bare arms. one thing is very clear, no one wants a clothesline.


current events:
failed to make the first killing blow after finding neil tathers in a hut in raktam. oh the shame. looks like he wins this round.

They carry 1 skull.

Achievements:(12 total)

Areas explored: 632 (17.4% of island)
HP Healed: 177
Trading Points: 1
Spirits Exorcised: 0 (not a shaman)
Wailing Damage: 0
Ritual Feasts: 51 (51 own kills)
Mentioned in 0 profile

The following extended statistics are since 1st Jan 2011.

Alcohol Brewed: 0
Alcohol Drunk: 0
Heads Collected: 0
Fruit Juiced: 0
Successful Possessions: 0
Tracks Found: 0
Fires Started: 0
Fires Extinguished: 0
Items Buried: 0
Items Found: 0
Jungle Chopped: 0
Parrots Tamed: 0

(not a pirate)


Monkeys Tamed: 0

(not a pirate)


Signposts Built: 0
Signposts Smashed: 0
Treasures Found: 0 (added 2014-07-14)

NPC kills: 30; last kill: ferocious tiger
Animals: 30
Shamans: 0
Traders: 0
Natives killed: 6; last kill: Jason Voorhees
Raktam: 0
Dalpok: 1
Wiksik: 0
Rakmogak: 5
Outsiders killed: 4; last kill: Amo
Derby: 1
Durham: 0
York: 2
Shipwreck: 1


NPC kills (detailed):
Name
Kills
rhino
5
turtle
4
elephant
4
tiger
3
rat
3
monkey
2
alligator
2
large stag
2
ferocious tiger
1
small deer
1
giant spider
1
wild boar
1
parrot
1
Skills:
Close quarter combat

- Gain 10% to hit with melee attacks

Advanced close quarter combat

- Gain 15% to hit with melee attacks

Balanced Stance

- Sometimes turn a miss into a glancing blow.

Headhunting

- Take the heads of your victims as trophies or signpost decoration
Body building

- Increases melee damage

Stamina

- Increases max HP by 20

Ritual Feasting

- Feast on your defeated enemy and steal their power

Ritual Gluttony

- Feasting can now fill most of your needs from a single body
Exploration

- Helps you remember some of the places you've been

Cartography

- Stops you forgetting where you've visited

Trekking

- Faster movement through the jungle

Swimming

- Faster movement through water
Basic tracking

- With some difficulty, you can track animals and people

Advanced tracking

- You can track animals and people who were here recently

Expert tracking

- You can track animals and people who were here several days ago.

Tracking mastery

- Tracking animals and people is nearly effortless
Haggling

- Be able to obtain slightly better prices from some traders
Triage

- Be able to tell who is most injured

Natural medicine

- Heal 10 HP with healing herbs
This character has been idle since 2009-08-08.
Cookies are in use on this site! Essential ones allow you to login. Google Analytics cookies allow us to monitor how you use the site. Other cookies are for adverts and Facebook social features (eg Like and Login)