Waski Kunlani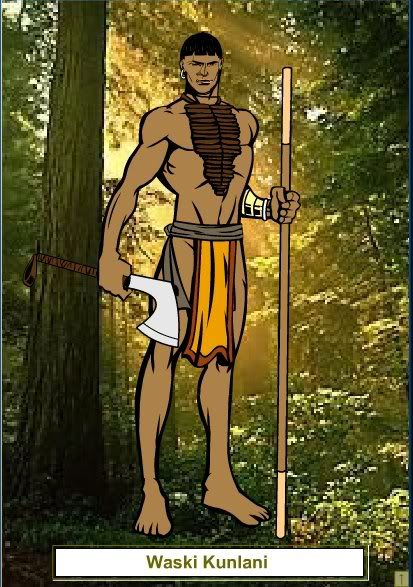 Home: Dalpok
Been on the island since 2008-04-08
Died: 17 times (last time was 2008-09-13 05:04 at the hands of Groker, killed by a cutlass)
Level: 15
Class: Shaman (native)
Primary Clan: None chosen
Underworld: https://underworld.shartak.com/?id=14240
Deadzone: http://shartak.aphlor.org/deadzone/view/14240

Description:
Waski Kunlani played around the mountain when he was a child, his only friend was a goat named Tun-Tun. One day Waski was playing rock climbing with Tun-Tun when a large stinky pirate slaughtered Tun-Tun. Waski could do nothing but cry from a ledge on the edge of the mountain.

From that day on he made an oath that the pirates will pay for their cruelty to his friend.

They carry 1 parrot feather charm and 18 skulls.

Achievements:(13 total)

Areas explored: 148 (4.1% of island)
HP Healed: 213
Trading Points: 0
Spirits Exorcised: 0
Wailing Damage: 0
Ritual Feasts: 0 (not a cannibal)
Mentioned in 0 profile

This user does not have extended statistics enabled.

NPC kills: 97; last kill: small deer
Animals: 97
Shamans: 0
Traders: 0
Natives killed: 0
Raktam: 0
Dalpok: 0
Wiksik: 0
Rakmogak: 0
Outsiders killed: 18; last kill: spinnerjay
Derby: 0
Durham: 0
York: 3
Shipwreck: 15


NPC kills (detailed):
Name
Kills
monkey
16
large deer
15
small deer
13
wild boar
13
parrot
12
large stag
10
bat
10
tiger
4
elephant
4
Skills:
Close quarter combat

- Gain 10% to hit with melee attacks

Advanced close quarter combat

- Gain 15% to hit with melee attacks

Balanced Stance

- Sometimes turn a miss into a glancing blow.

Headhunting

- Take the heads of your victims as trophies or signpost decoration
Body building

- Increases melee damage

Stamina

- Increases max HP by 20
Exploration

- Helps you remember some of the places you've been

Cartography

- Stops you forgetting where you've visited

Trekking

- Faster movement through the jungle

Swimming

- Faster movement through water
Sixth sense

- Sense presence of and hear spirits

Psychic recognition

- Lets you recognise active spirits

Exorcism

- Exorcise spirits from areas
Triage

- Be able to tell who is most injured

Natural medicine

- Heal 10 HP with healing herbs
This character has been idle since 2008-09-14.
Cookies are in use on this site! Essential ones allow you to login. Google Analytics cookies allow us to monitor how you use the site. Other cookies are for adverts and Facebook social features (eg Like and Login)