Pickles the Drummer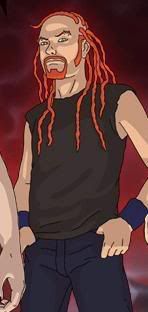 Home: Derby
Been on the island since 2007-05-22
Died: 24 times (last time was 2008-07-28 21:00 at the hands of Bodypops with Wolves, killed by a machete)
Level: 14
Class: Explorer (outsider)
Primary Clan: The Shartak Bottle And Backpack Co.
Underworld: https://underworld.shartak.com/?id=10081
Deadzone: http://shartak.aphlor.org/deadzone/view/10081

Description:
Pickles is the Drummer of Dethklok.

He opened up the monopoly on backpacks, imported glass bottles and leather gourds.

Currently working as Derby's resident gardener, due to the lack of backpack sales.

He is currently Shartak's poorest celebrity. With no money at all and no home. He must soon pay the rent. Help Pickles pay the rent! Donate some gold!

Kills are either by wailing or pk-ers who tried to kill me. No offense, but wailing is a job.
Achievements:(14 total)

Areas explored: 5 (0.1% of island)
HP Healed: 425
Trading Points: 0
Spirits Exorcised: 0 (not a shaman)
Wailing Damage: 232
Ritual Feasts: 0 (not a cannibal)
Mentioned in 0 profile

This user does not have extended statistics enabled.

NPC kills: 13; last kill: alligator
Animals: 13
Shamans: 0
Traders: 0
Natives killed: 4; last kill: Diamond Joe Quimby
Raktam: 0
Dalpok: 0
Wiksik: 4
Rakmogak: 0
Outsiders killed: 5; last kill: Furnox
Derby: 3
Durham: 0
York: 1
Shipwreck: 1


NPC kills (detailed):
Name
Kills
alligator
4
small deer
3
tiger
2
wild boar
1
monkey
1
bat
1
parrot
1
Skills:
Basic language

- Understand the smaller words of foreign languages
Close quarter combat

- Gain 10% to hit with melee attacks

Advanced close quarter combat

- Gain 15% to hit with melee attacks

Balanced Stance

- Sometimes turn a miss into a glancing blow.
Body building

- Increases melee damage

Stamina

- Increases max HP by 20
Ghostly whisper

- Allows spirits to communicate

Haunting scream

- Attract other spirits and scare the living

Shocking shriek

- Scare nearby living players

Banshee wail

- Frighten living players further away
Exploration

- Helps you remember some of the places you've been
Clan leadership

- Allows you to start your own clan or help lead one
Haggling

- Be able to obtain slightly better prices from some traders
Triage

- Be able to tell who is most injured
This character has been idle since 2008-09-17.
Cookies are in use on this site! Essential ones allow you to login. Google Analytics cookies allow us to monitor how you use the site. Other cookies are for adverts and Facebook social features (eg Like and Login)