BustyWench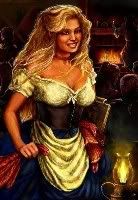 Home: the shipwreck
Been on the island since 2007-01-22
Died: 7 times (last time was 2007-02-18 02:43 at the hands of Wolf im Schafspelz)
Level: 3
Class: Pirate (outsider)
Primary Clan: Feral Undead
Underworld: https://underworld.shartak.com/?id=7995
Deadzone: http://shartak.aphlor.org/deadzone/view/7995

Description:
Bedecked in a flowing skirt and a tight corset, BustyWench has a clevage you could ski down. She totters about in a slightly wobbly fashion and smells faintly of rum, and her flushed cheeks and slightly slurred speech give away her less-than-sober state. She occasionally swigs from a silver hipflask bearing an ornate engraving of a vulture and the letters "FU".
Achievements:(12 total)

Areas explored: 14 (0.4% of island)
HP Healed: 0
Trading Points: 0
Spirits Exorcised: 0 (not a shaman)
Wailing Damage: 0
Ritual Feasts: 0 (not a cannibal)
Mentioned in 0 profile

This user does not have extended statistics enabled.

NPC kills: 0
Animals: 0
Shamans: 0
Traders: 0
Natives killed: 0
Raktam: 0
Dalpok: 0
Wiksik: 0
Rakmogak: 0
Outsiders killed: 0
Derby: 0
Durham: 0
York: 0
Shipwreck: 0

Skills:
Exploration

- Helps you remember some of the places you've been

Trekking

- Faster movement through the jungle
Basic tracking

- With some difficulty, you can track animals and people
This character has been idle since 2007-02-17.
Cookies are in use on this site! Essential ones allow you to login. Google Analytics cookies allow us to monitor how you use the site. Other cookies are for adverts and Facebook social features (eg Like and Login)