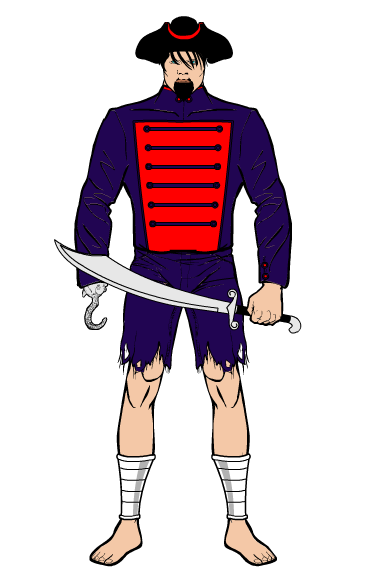 Home: the shipwreck
Been on the island since 2017-01-04
Died: 21 times (last time was 2017-06-10 16:40 at the hands of gridflay, killed by a falcon)
Level: 10
Class: Pirate (outsider)
Primary Clan: None chosen
Underworld: https://underworld.shartak.com/?id=25085
Deadzone: http://shartak.aphlor.org/deadzone/view/25085

Description:
There were three brothers in merry Scotland,
In merry Scotland there were three
And they did cast lots which of them should go, should go, should go,
And turn robber all on the salt sea.

The lot it fell upon Henry Martin,
The youngest of all of the three
That he should turn robber all on the salt sea, the salt sea, the salt sea,
For to maintain his two brothers and he.

Now they had not been sailing but a long winter's night
And part of a short winter's day,
When he spied a stout lofty ship
Come a-bibbing down on them straightway.

"Hello, hello," cried Henry Martin,
"What makes you sail so nigh?"
"O, I'm a rich merchant ship bound for fair London Town,
And if you please, we shall quickly pass by."

"Oh no, oh no," cried Henry Martin,
"This thing it never could be.
For I have turned robber all on the salt sea,
For to maintain my two brothers and me."

"Come lower your topsail and brail up your mizzen,
And bring your ship under my lee,
Or I will give to you a full cannon ball,
And all your bodies drown in the salt sea."

"Oh no, we won't lower our lofty topsail,
Nor bring our ship under your lee,
And you'll not take from us our rich merchant goods,
No, nor point our bold guns to the sea."

And broadside, and broadside, and at it they went,
For fully two hours or three,
Until Henry Martin gave them the death shot,
And straight to the bottom went she.

Bad news, bad news, to old England came,
Bad news to fair London town,
There's been a rich vessel and she's cast away,
And all of her merry men drowned.

They carry 1 parrot feather charm, 2 tricorn hats, 3 cat-o-nine tails, 1 tiger tooth amulet and 2 harpoons.

Achievements:(5 total)

Areas explored: 246 (6.8% of island)
HP Healed: 0
Trading Points: 4
Spirits Exorcised: 0 (not a shaman)
Wailing Damage: 0
Ritual Feasts: 0 (not a cannibal)
Mentioned in 0 profile

The following extended statistics are since 1st Jan 2011.

Alcohol Brewed: 0
Alcohol Drunk: 3
Heads Collected: 0
Fruit Juiced: 0
Successful Possessions: 0
Tracks Found: 0
Fires Started: 0
Fires Extinguished: 0
Items Buried: 1
Items Found: 124
Jungle Chopped: 902
Parrots Tamed: 0
Signposts Built: 0
Signposts Smashed: 2
Treasures Found: 0 (added 2014-07-14)

NPC kills: 79; last kill: monkey
Animals: 79
Shamans: 0
Traders: 0
Natives killed: 0
Raktam: 0
Dalpok: 0
Wiksik: 0
Rakmogak: 0
Outsiders killed: 1; last kill: Slobby Hobo
Derby: 0
Durham: 0
York: 0
Shipwreck: 1


NPC kills (detailed):
Name
Kills
monkey
32
parrot
13
small deer
11
wild boar
7
large deer
4
large stag
4
tiger
3
bat
3
zombified large stag
1
bear
1
Skills:
Close quarter combat

- Gain 10% to hit with melee attacks

Advanced close quarter combat

- Gain 15% to hit with melee attacks

Balanced Stance

- Sometimes turn a miss into a glancing blow.
Body building

- Increases melee damage

Stamina

- Increases max HP by 20
Exploration

- Helps you remember some of the places you've been

Cartography

- Stops you forgetting where you've visited

Survival - Firecraft

- Knowledge of how to create, control and use fires
Basic Pistol Training

- Gain 15% on pistol attacks

Advanced Pistol Training

- Gain 15% on pistol attacks
This character has been idle since 2017-06-06.
Cookies are in use on this site! Essential ones allow you to login. Google Analytics cookies allow us to monitor how you use the site. Other cookies are for adverts and Facebook social features (eg Like and Login)