LONG FIN KILLY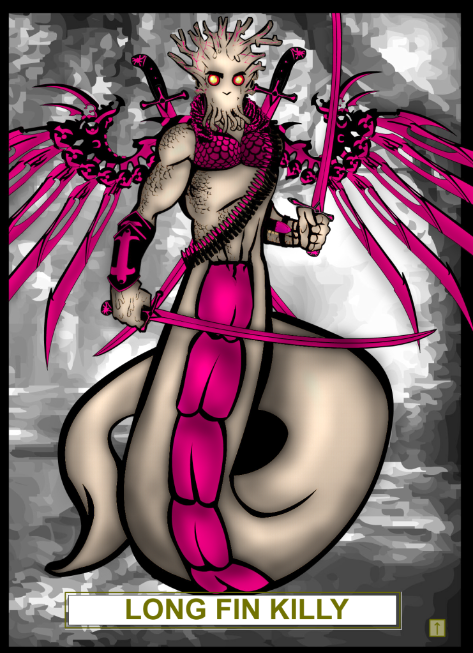 Home: the shipwreck
Been on the island since 2009-03-21
Died: 5 times (last time was 2009-05-24 00:49 at the hands of lomoko mpimientos, killed by a knife)
Level: 6
Class: Pirate (outsider)
Primary Clan: Shartak Insane Asylum
Underworld: https://underworld.shartak.com/?id=18380
Deadzone: http://shartak.aphlor.org/deadzone/view/18380

Description:
ALL KILLS MADE BY OTHER PEOPLE TO LONG FIN KILLY ARE JUSTIFIED REGARDLESS IF THE CASE FABRICATED AGAINST HIM IS A BLATANT LIE.

LONG FIN KILLY is yearning for the most abysmal kill-per-death ratio on Shartak. If you see him wounded, don't heal him. Instead, either leave him to die or deliver him the coup de grace. If you do heal him, he will attempt to track you down and kill you. If you need an excuse to kill him, just say that you saw him eat a baby.

Trader Sam looks looks horrified to see your face in the trading post.
Trader Sam says, "Sweet Jesus!"
Trader Sam says, "Ok, here's 2 bottles of fungi juice for 1 of your gems, but please get the hell out, PLEASE!!"

LONG FIN KILLY screams GRAAAAAAAAAAAAAAAAAAAAAAAAAAAAAAAAAAAHHHHHH as he slithers into the trading post
LONG FIN KILLY drops a clod of gold goins bound together by the hardened slime that emits from his hands
LONG FIN KILLY retrieves a shovel from Trader Sam and slithers out, his tongue flickering in and out
LONG FIN KILLY smears his palm secretions on the wall everywhere while leaving
Achievements:(10 total)

Areas explored: 35 (1.0% of island)
HP Healed: 0
Trading Points: 6
Spirits Exorcised: 0 (not a shaman)
Wailing Damage: 0
Ritual Feasts: 0 (not a cannibal)
Mentioned in 0 profile

This user does not have extended statistics enabled.

NPC kills: 18; last kill: bat
Animals: 18
Shamans: 0
Traders: 0
Natives killed: 4; last kill: Retsbew
Raktam: 0
Dalpok: 2
Wiksik: 0
Rakmogak: 2
Outsiders killed: 0
Derby: 0
Durham: 0
York: 0
Shipwreck: 0


NPC kills (detailed):
Name
Kills
monkey
7
large deer
3
parrot
2
bat
2
small deer
1
tiger
1
large stag
1
elephant
1
Skills:
Close quarter combat

- Gain 10% to hit with melee attacks

Advanced close quarter combat

- Gain 15% to hit with melee attacks

Balanced Stance

- Sometimes turn a miss into a glancing blow.
Body building

- Increases melee damage

Stamina

- Increases max HP by 20
Exploration

- Helps you remember some of the places you've been
This character has been idle since 2009-05-24.
Cookies are in use on this site! Essential ones allow you to login. Google Analytics cookies allow us to monitor how you use the site. Other cookies are for adverts and Facebook social features (eg Like and Login)