Fiery Dweevil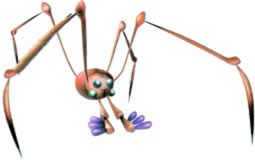 Home: Derby
Been on the island since 2008-12-26
Died: 8 times (last time was 2013-05-12 01:13 at the hands of Malice, killed by a cutlass)
Level: 11
Class: Settler (outsider)
Primary Clan: The French
Secondary Clan: Science Club
Underworld: https://underworld.shartak.com/?id=17490
Deadzone: http://shartak.aphlor.org/deadzone/view/17490

Description:
Members of the dweevil family are known for carrying objects of astonishing size on their backs, then mimicking them. The Fiery Dweevil is one species in this family. Generally, this is a very gentle insect that feeds on grass nectars, but when faced with danger the Fiery Dweevil ignites flammable internal gases, juts out its jaw, and spews scorching flames. As this clearly makes it a rather dangerous insect, it is best not to linger directly in front of it.
-------------------------------------------------
For cannibals:
The search for a high-protein, salad-topping alternative to bacon bits is over! Grind this spicy dweevil into tasty micro-chunks and toss them generously over your salad to add instant flair AND flavor!
-------------------------------------------------

I'm selling heavy swords for 200GC each.
Achievements:(11 total)

Areas explored: 126 (3.5% of island)
HP Healed: 0
Trading Points: 2
Spirits Exorcised: 0 (not a shaman)
Wailing Damage: 0
Ritual Feasts: 0 (not a cannibal)
Mentioned in 0 profile

This user does not have extended statistics enabled.

NPC kills: 70; last kill: elephant
Animals: 70
Shamans: 0
Traders: 0
Natives killed: 0
Raktam: 0
Dalpok: 0
Wiksik: 0
Rakmogak: 0
Outsiders killed: 0
Derby: 0
Durham: 0
York: 0
Shipwreck: 0


NPC kills (detailed):
Name
Kills
monkey
14
parrot
11
large deer
11
wild boar
9
small deer
6
tiger
5
large stag
4
bat
4
alligator
2
elephant
2
turtle
1
shargle
1
Skills:
Close quarter combat

- Gain 10% to hit with melee attacks

Advanced close quarter combat

- Gain 15% to hit with melee attacks

Balanced Stance

- Sometimes turn a miss into a glancing blow.
Body building

- Increases melee damage

Stamina

- Increases max HP by 20
Exploration

- Helps you remember some of the places you've been

Trekking

- Faster movement through the jungle
Native knowledge

- Outsiders gain basic native knowledge
Triage

- Be able to tell who is most injured

First aid

- Heal 10 HP with a first aid kit
Scavenging

- Assists in finding things within certain areas
This character has indicated they have peaceful intentions and would prefer not to be killed.
This character has been idle since 2013-05-16.
Cookies are in use on this site! Essential ones allow you to login. Google Analytics cookies allow us to monitor how you use the site. Other cookies are for adverts and Facebook social features (eg Like and Login)