Saint Vincent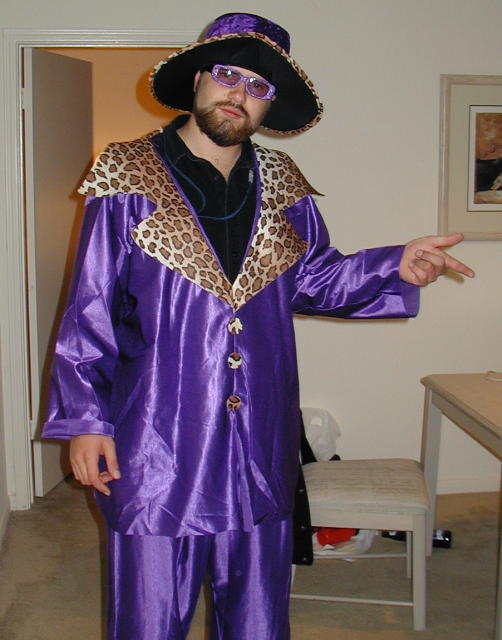 Home: York
Been on the island since 2008-12-24
Died: 55 times (last time was 2017-07-31 13:41 at the hands of gridflay, killed by a falcon)
Level: 24
Class: Settler (outsider)
Primary Clan: The Tea Makers Society
Underworld: https://underworld.shartak.com/?id=17477
Deadzone: http://shartak.aphlor.org/deadzone/view/17477

Description:
Saint Vincent is a kind priest dedicated to healing others and show compassion regardless of who they are. He's dressed in what he considers "outlandish" clothing to prove to kids that Catholicism is "pretty pimp", too!
As time goes by suddenly you're wiser, in a blink of an eye sixty-seven is gone. The sun is getting high, we're moving on...
I'm ninety-nine, for a moment. I'm dying for just another moment and I'm just dreaming.
Vows:
Never harm or kill another living being
Never consume alcohol
Never posses any material wealth
Never seek revenge
Never carry tools of war with intent to harm
Never threaten others safety
Never refuse care to those who need it

They carry 4 monkey claw charms and 1 skull.

Achievements:(13 total)

Areas explored: 458 (12.6% of island)
HP Healed: 1384
Trading Points: 54
Spirits Exorcised: 0 (not a shaman)
Wailing Damage: 0
Ritual Feasts: 0 (not a cannibal)
Mentioned in 0 profile

The following extended statistics are since 1st Jan 2011.

Alcohol Brewed: 0
Alcohol Drunk: 0
Heads Collected: 0
Fruit Juiced: 0
Successful Possessions: 0
Tracks Found: 0
Fires Started: 0
Fires Extinguished: 0
Items Buried: 0
Items Found: 9
Jungle Chopped: 0
Parrots Tamed: 0

(not a pirate)


Signposts Built: 0
Signposts Smashed: 0
Treasures Found: 0 (added 2014-07-14)

NPC kills: 0
Animals: 0
Shamans: 0
Traders: 0
Natives killed: 0
Raktam: 0
Dalpok: 0
Wiksik: 0
Rakmogak: 0
Outsiders killed: 0
Derby: 0
Durham: 0
York: 0
Shipwreck: 0

Skills:
Basic language

- Understand the smaller words of foreign languages

Advanced language

- Better understanding of foreign languages

Expert language

- Full comprehension of foreign languages

Foreign Writing

- Not only can you understand foreign languages, you can also write it well enough to be understood

Foreign Speech

- Not only can you understand foreign languages, you can also speak it well enough to be understood

Pirate speech

- You can talk to pirates in their own unique dialect
Exploration

- Helps you remember some of the places you've been

Cartography

- Stops you forgetting where you've visited

Trekking

- Faster movement through the jungle

Swimming

- Faster movement through water

Survival - Firecraft

- Knowledge of how to create, control and use fires
Clan leadership

- Allows you to start your own clan or help lead one
Sixth sense

- Sense presence of and hear spirits

Psychic recognition

- Lets you recognise active spirits

Seance

- Holding a seance can identify passive spirits
Haggling

- Be able to obtain slightly better prices from some traders
Faith

- Belief in the spirits of the ancestors increase charm effects.
Agriculture

- Gives you a better chance of getting things to grow
Native knowledge

- Outsiders gain basic native knowledge
Triage

- Be able to tell who is most injured

First aid

- Heal 10 HP with a first aid kit
Animal affinity

- Lessens the chance of animals attacking
Scavenging

- Assists in finding things within certain areas
Brewing

- Increased chance of creating something drinkable
This character has indicated they have peaceful intentions and would prefer not to be killed.
This character has been idle since 2017-08-03.
Cookies are in use on this site! Essential ones allow you to login. Google Analytics cookies allow us to monitor how you use the site. Other cookies are for adverts and Facebook social features (eg Like and Login)